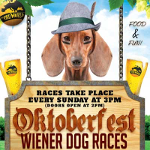 Orange County's original Oktoberfest is underway and will run from Sept. 9th - Oct. 28th No One Does Oktoberfest like Old World! Old World Huntington Beach has been hosting Orange County's Biggest Party since 1977! That's 41 years! This year's Oktoberfest promises to be the best celebration yet, offering authentic German Food (voted "Best Bratwurst" in California), imported German Beers, German Bands straight from Germany, an army of Beautiful Shot Girls, and Oktoberfest Skate Squad plus other festivities, competitions, games & more. So, come on down and experience the best Oktoberfest celebration in the World - Old World Huntington Beach.
. http://www.oldworld.ws/
Visit our website atfor more information about Old World. Visit http://www.oldworld.ws/oktoberfest-orange-county.html
for all Oktoberfest activities and go to http://www.oldworld.ws/oktoberfest-admission-ticket.html for tickets.
We Really had a wonderful time at Orange County's Oktoberfest in Huntington Beach ! We had some great food Chicken and bratwurst and the pastries were delicious ! They had a German band and people were dancing and having a good time . I really enjoyed the dogs races ! They were really fun and everyone their seemed to enjoy the races too ! They also had shops where you could buy German Hats , t-shirts or stein's .
And beer for all you beer lovers and other beverages .And don't forget your pretzel my son bought a huge pretzel and shared it with all of us . So go and visit Orange county's Oktoberfest in Huntington Beach you will have a really fun time . On October 30 th they will have a parade to kick it off and on October 4 to celebrate German Unity . Just look at the links to find all the details .